Join AMCA in Washington D.C. this May
Each May, AMCA members go to buzz the Capitol. Learning about key issues affecting the industry and meeting with legislators and regulatory officials to educate them about our issues. 
Keep an eye out for information on the 2024 Washington Conference coming this Fall.  
Learn how to become an advocate
Learn to become a mosquito control activist with the ability to educate key legislators and policymakers on the importance of mosquito control, the work you do, and how federal actions impact your job and the communities we all serve. 

Public health agencies face various challenges due to a lack of resources, misinformation, and lack of basic infrastructure, which became apparent during the COVID-19 pandemic.  This requires immediate attention to avoid further public health deficiencies. 

Those who work in and around D.C. can help you through targeted actions that strengthen existing vector control, advance the science that allows vector control to adapt to new challenges, and equip local agencies with the tools they need to be effective. Then it's up to us to make vector-borne disease prevention and control programs sustainable.  This conference will provide a deep dive into how you can help pave the way for the vector control programs of tomorrow.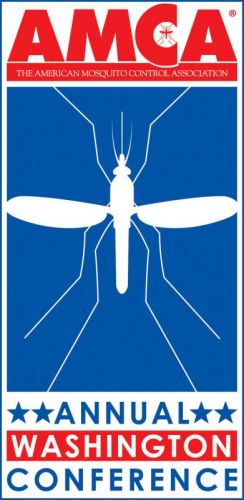 Key Issues in 2023
AMCA's issue papers will highlight:
The United States' reactionary response to public health concerns.  Building upon the Department of Health and Human Services'

National Public Health Framework for the Prevention and Control of Vector-Borne Diseases in Humans

.

The

Strengthening Mosquito Abatement for Safety and Health Act

(H.R. 345) enjoyed broad bipartisan support and will provide grants for local mosquito control programs in FY 2024 if appropriations are made by Congress.  Our efforts last year resulted in additional funding for the CDC's Division of Vector-Borne Diseases.  Our goal is to increase that funding and make it continuous. 

2023 Farm Bill

builds upon the FIFRA Interagency Working Group to provide recommendations and develop a strategy for improving the pesticide consultation process under Section 7 of the

Endangered Species Act

(ESA) to realistically assess the potential impacts of mosquito control operations on listed species.  

Supporting resources for the EPA's Office of Pesticide Programs

to make sound, timely regulatory decisions for vector control tools.  FIFRA and the pesticide registration process have come into question with the introduction of S.3283, the Protect America's Children from Toxic Pesticides Act.  EPA must have the resources to thoroughly review all current pesticides and support their regulatory decisions while simultaneously analyzing and registering novel tools for mosquito control.  
We need you to join us in Washington!
It is vital for members of the association, like you, to impact the narrative taking place on and around Capitol Hill.  AMCA leadership typically meets with federal agency staff to provide updates while in D.C. for Washington Days. 
Washington Conference Mentoring Program
If you have been participating in the conference for a few years and are willing to share your knowledge and experience, please consider volunteering to mentor to a new attendee.
AS A MENTOR YOU WILL:
Help set up Congressional appointments.
Guide your mentee to the Hill.
Join your mentee for at least the first couple of Hill visits.
Is it your first time attending the conference?
Details will be released each year on how to request a mentor. We do our best to match you with someone from your region to guide you through what it is like to be advocating on the Hill.
The AMCA benefits most when a diverse representation of AMCA members attend the Annual Washington (D.C.) Conference.
Each year, the AMCA & Central Life Sciences fund stipends that are used to encourage the attendance of AMCA members who have never participated in this event before and to ensure we cover as many states as possible when we buzz the Hill each May.
You must be an AMCA member in good standing to receive an award.
Additionally, priority is given to applications who:
Represent a state or congressional district not frequently represented.
Represent a portion of the industry not frequently represented
First-time attendees
Keep an eye out for the 2024 Travel Stipends in early 2024.
Thank You to Sustaining Members for Supporting AMCA's Advocacy Efforts!
2023 Washington Conference Sponsors