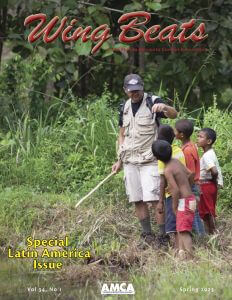 Wing Beats is an operational trade magazine, published quarterly and is written and produced mainly by operational people. Its main intention is to keep all interested parties informed on matters as they relate to mosquito control and to disseminate information to help educate and raise the level of the mosquito control profession both nationwide and internationally.
Although the vast majority of articles are mosquito related, we do consider articles related to other vectors and their associated diseases (ie. ticks, fleas, sand flies).
Wing Beats is published quarterly each year by the Florida Mosquito Control Association. AMCA Members receive Wing Beats as an additional member benefit.
Wing Beats' Editor-in-Chief is Dennis Moore.
Info for Wing Beats Contributors
All correspondence regarding Wing Beats should be sent to the new Editor-in-Chief, Dennis Moore at dmtrinity@outlook.com.
Submissions
Readers are invited to submit articles related to mosquito and biting fly biology and control to Dennis Moore at dmtrinity@outlook.com. Wing Beats seeks interesting technical and field-related articles about mosquitoes, mosquito control and other vector related topics. There is no charge if your article or letter is printed. Authors, photographers and artists are invited to submit high quality original artwork in electronic format for possible use in the magazine or on the cover. A $100 honorarium payment will be awarded for each cover graphic selected.
Advertising
Businesses are invited to place advertisements through the Director of Advertising, Steven Peper speper@amcdfl.org.
Following are deadlines for article submission for each quarterly issue.
Receiving Materials         Monthly Issue      Targeted Mailing Date
December 15                    Spring                 March 15
March 15                           Summer              June 15
June 15                              Fall                     September 15
September 15                    Winter                December 15